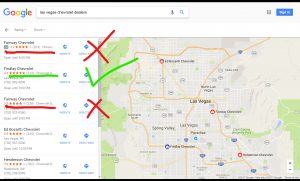 As you can see from the above Google Map,this is what your customers are seeing when they search Chevrolet Dealers in your area or get directions to your store. A 3.9 isnt terrible but it is below average,are you a below average dealership? Wouldnt you like to be the highest rated dealership in the area? We know you know how important the local Google search and map are. Your even paying to be at the top of the list. Would you prefer to eat at a 3 star restaurant or a 4 star restaurant. This is costing you sales ad service business. Not to mention all the other effects of a less then stellar reputation. Let us partner with you and get you the reputation you deserve. Guaranteed results,we know how to mine great your reviews from your customers and train your staff to do the same. You don't get results you don't pay a dine. Don't let this go unattended to,make changes to be proud of your dealerships reputation and rectify this before it coast you any additional leads and $$$$.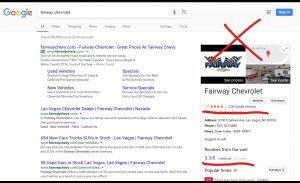 Another image of what potential customers see when they search for you online. We all know over 90% of customers start online and visit 1.3 dealerships before buying. So the numbers say they are eliminating dealers off their list before they ever give them a shot at their business. Don't be eliminated from the competition before they even talk to you.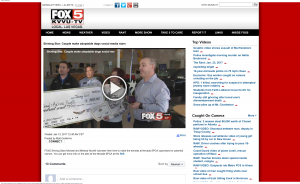 We also see you know you understand the power of social media. This is a great story and great way to get your name out into the community. Only problem is your facebook rating of 3.3 and the way you marketed the story are holding you back. When their peers rate you at a 3.3 that's not a great way to generate referrals. Let us help you get the facebook reputation you need to market your social stories to increase awareness,promote a positive image of your dealership.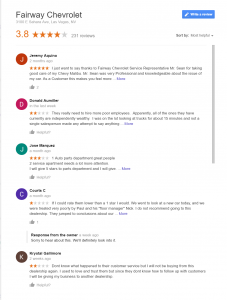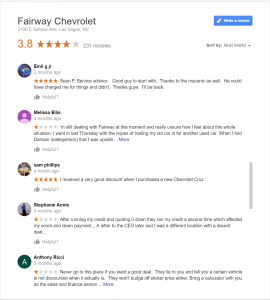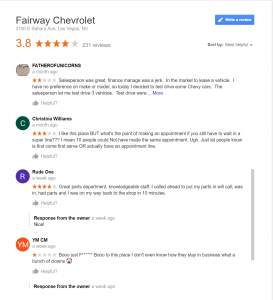 Here are your latest and most helpful reviews from Facebook and Google. Top * on Facebook are 1 stars with only 1 reply and that reply took 2 weeks for you to post. Google not much better with a lot of bad reviews in the most helpful section meaning potential customers are reading and clicking on them. If you didn't know anything about your dealership and read these reviews( like 92% of consumers read reviews before a major purchase) would your dealership be your first choice? I know what a great reputation can do for your dealership. I've ran a much smaller dealership that was 3,000 positive online reviews. Ive also help many others with their reputation/seo/social media and much more. I understand the business,and how easy it is for a customer to get sideways on you when youve done nothing wrong. This is the new reality of doing business and you need to turn it into a positive instead of a negative. I know how to get this done. When you have negative reviews and a poor reputation it tends to snowball,just as a good reputation will snowball in the opposite direction. Consumers will easily pile on you join the crowd. So you want them to join in the positive direction. Your trending down. Just a couple days ago you were a 3.8. Stop the fall. Partner with us.